Not for me at the moment.
It's potentially another step towards the acceptable switch from the ICE to electric. The same old problems need to be overcome, though - range and recharge time. I think range will get there pretty soon now but perhaps it'll be another generation or two of battery technology before the recharge time stops being a hindrance. And of course, fast charging needs the necessary infrastructure.
It will be all we can buy (new) from 2035 so hopefully the tech will evolve quickly over the next 10 years. Definitely not there yet though.
I wouldn't mind one in my garage, but as a second bike that someone "gave" me… too many interesting, beautiful and legendary petrol bikes that I have lusted after for many years but have never owned! It's fairly true of modern ICE bikes too, not many set the juice loose enough to waste quality daydreaming time upon… though in the last few years, there have been a couple.
Also this…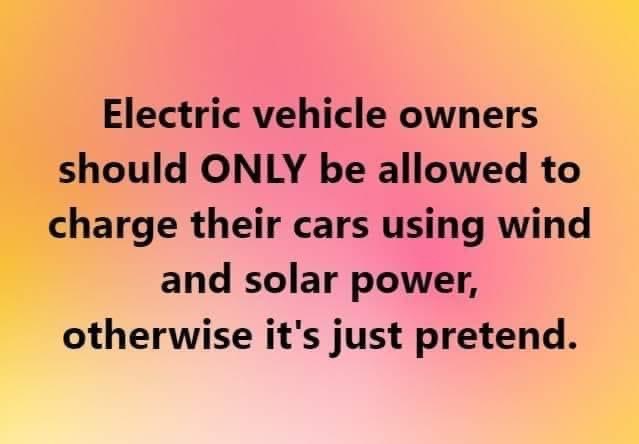 That a bang right statement!! I second that. Green should be greeeeeeen
Still not green though is it… all the mining, energy and resources that go into making the bloody things! Got stuck again this morning, queue of 6 cars doing 40 in a 60. Yep, bloody electric car up front holding everybody up

I must admit that I'd like to cut down on my co2 emissions and so have been watching the UK grids electric production and currently it's running at around 54% gas giving 196g/kwh co2 (this seems a good annual average at the moment). Looking around it seems in ideal conditions electric cars do about 6km per Kwh on average (obviously a lot of variances dependent on conditions, age, where you're driving and how you're driving). My car outputs about 120g/km, my new bike about 67g/km.
It seems that electricity loses about 8-15% through the network and batteries are around 80-90% efficient, so say 73% of the electricity powers the motor, so that 1kwh translates to .73kwh in use, giving a range of 4.4km/kwh.
So an electric car is putting out around 45g/km, which is obviously better but still not great considering the extra co2 generated during production. At the end of the day, I've found it difficult to get a straight answer because obviously petrol generation also creates co2 which needs to be taken into account.
Am I overthinking this? I usually do…


Certainly, if the UK's electric generation was 100% green it would stop me having to take that into account… Trouble is I just can't see that happening in my lifetime, I think we'd have to quadruple our wind and solar and start storage (my estimates

)… Yeah, I'm on a downer at the moment about our climate.
Please ignore all the above I was just trying to think out loud!
Edited days later to point out a mistake… The km per Kwh of the battery already takes into account the battery efficiency so I'd double counted it. So it should be 1kwh translates to around .88kwh in use. Thus giving 5.3km/kwh and 37g/km co2. Not that this matters to anyone but me.

Still just thinking out loud!
Your moniker is appropriate though…!
Bloody hell it's like O level maths again.
M62 services at hearts head moor, plug ur not that clean electric thingy into a great big dirty diesel generator!!
It's all a massive money making hoax.
If it makes you feel better just remember that whatever we do in this country doesn't make any significant difference overall.
As a nation, we are already a low co2 producer. While China, USA, India & Russia are churning out most of the worlds co2, the rest of us are fighting a losing battle.
That's if you believe all the climate change hype in the first place.
The politicians once told us all to buy diesels to save the planet…


Once bitten…
Can't help thinking EV's will go the same way.
If this is to be believed then EVs can actually ve more expensive if you don't have a home charger.
They don't make economic sense in my situation so not going down that path until they do
Ah you caught me welding again with CO2


I fully respect that, Littleade. Our situations may be different. Having had an EV for nearly two years now, the Volvo XC40, I can safely say that for us, living in Norway, it has definitely been worth the money. Because it was absolutely tax free to buy, when paying 500,000 NOK we got 500,000 NOK worth of car. Because of the tax and VAT for ICE cars, the alternative would have meant getting 300,000 NOK worth of car. Thanks to the current imbalance between supply and demand we would have got more than we paid for it if we sold it today. That will change of course.
As for energy expenses, the 120 km drive to our winter home costs a mere 2,80 UKP. With the Subaru we used to have, the cost would have been 23 UKP with today's petrol prices. The service costs are significantly lower than for a comparable ICE car: The petrol version of the XC40 has six times more parts.
Apart from economy, the car is a hoot to drive and we'll never go back. But again, our situations may be different.
And it's still a firm No!