TV, films, whatever…
I'll start with Happy Valley
Top quality script and acting IMHO
Not seen the latest series yet but loved the previous ones. The scene in the first series with the female officer getting run over is one the most disturbing things I have seen in a drama


Watching Pulp Fiction, again!
I don't watch much TV but did watch The Puppet Master on Netflix when Helmut was away last week and it was just…gobsmacking.
Recently seen too and loved was Knives Out and Glass Onion.
Read the book Dopesick… shocking revelations about big pharma's role in the opiate epidemic in America
Watched 'the rig' on amazon.
One of the worst series ever.
Fabulous cast but woefully slow plot. Avoid.
But, as @Col_C says, happy valley is brilliant
I'll have to look up The Puppet Master.
Watched the Glass Onion the other day and enjoyed.

Happy valley is fantastic. Recently watched "the light in the hall". The English version (same actors as when we saw it last year as y Golau in the Welsh language) bit biased as it was filmed all around where we live. I've Recently re-watched Taboo, brilliant, can't wait for the new series being filmed later this year. And finally Screw, really different kind of drama.
We've been watching Happy Valley too, brilliant!

Another BBC gem with Sarah Lancashire set "Up North" that we just started watching from the start is Tango in Halifax. It's a feel good with lots of family drama and quite funny at times.

I've watched Taboo - I thought it was brilliant.
Watched Taboo twice now.
Very dark and atmospheric and Tom Hardy is superb as James Delaney
1899 on Netflix.
Work that one out!
That is great. The sequel "1923" is half way through the first season, sadly now on a mid season break…
Edit: Oops, I'm confused with "1883"…

Yep, seen that too - got to stay awake for that one…
Try "Dark" by the same crew…
Watching the last bit (several beers on board) of the Mick Fleetwood and Friends tribute to Peter Green. Awesome! But Bill Wyman is completely devoid of personality!
I don't watch much tv but I was curious about The Last of Us, having played the game. Most adaptations from games are average at best but this one is shaping up pretty nicely without losing sight of the original storyline and setting.
Wooden mate, totally wooden.
The Claridges Hotel Megabuild on BBC 2. Available on iPlayer.
Coming from a construction background, this is just jaw dropping.
Amazing documentary.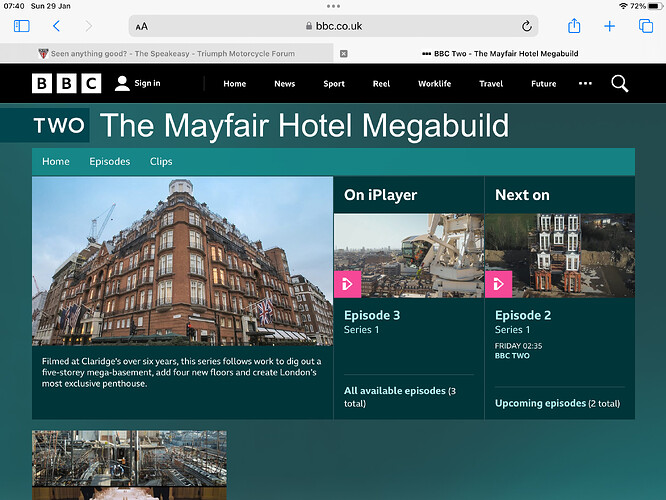 Digging for Britain
I'm currently catching up on the latest series on iPlayer. Brilliant TV if you're interested in archeology.
Yeah fantastic programme