Good to see a positive piece about biking for a change

Yes, a very positive message.
It is good to see more women getting on bikes. We just need to see more younger riders if biking is going to survive

Did anyone see "hells belles" it was on BBC1 a few weeks back, following 4 Welsh motorcycle girls on the lead up to the largest women's motorcycle meet up in the U.K. think about 1500 women motorcyclists turned up to meet and set a new world record?
I didn't see the programme but knew about the meet as I had considered going (but can't remember why I didn't now!). It was marred by a lot of bike theft from accommodation people were staying in the night before but still an impressive turnout.
I don't watch much TV but often mean to

.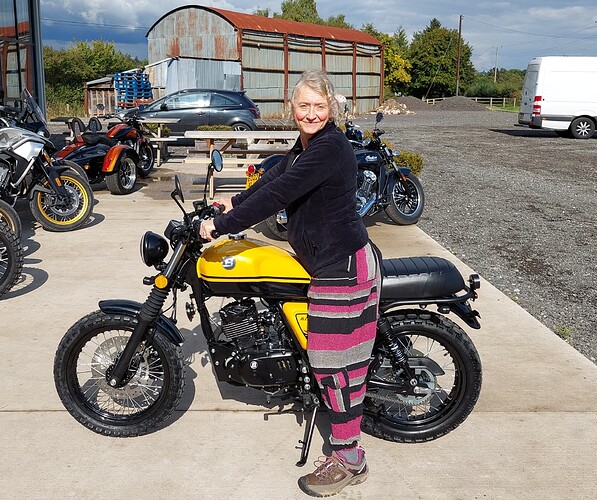 After hunting high and low for a tidy 125 for Mrs W and being generally messed around by dealers and private sales (long story in itself) Mrs W decided she wanted this. We travelled up to Stourport on Severn yesterday to fetch it. As Mrs W's cbt isn't until 9th of october, I had the pleasure of riding it home, 85 miles at maximum 5k revs which was "interesting" 45mph top wack, initially the engine felt very tight but gradually loosened over 50 miles or so and I had an absolute hoot. Designed in Belgium, built in China in the factory where they built the GN 125 which is what this engine is based on. Apart from a couple of dodgy fasteners which i will replace it's a good little bike and handles well, it'll do the job until she moves on to bigger and better things.
Bike looks perfect for the job to come

@PatW that's a smart 125 - I love yellow bikes for some reason!

.
Reminds me of my yamaha 400.
Yella n' black is awesome trim! Enjoy Mrs!!!
Well Mrs W obtained her CBT last Sunday (yay) but her instructor has confused her and me, Beth has had her full car Driving licence since 1984 and now she's obtained her CBT she can ride her bike on L plates, fine, but she would like to pass her full test and get a bigger bike, she fancies a 350 or 500 enfield eventually. What does she need to do next?
I passed my test in 1978, 3 times around the block (don't fall off) and have no idea what the requirements are now?
It's all here and I probably can't explain it any better.

Direct access test
It's 3 parts. Theory, off road manoeuvres, and standard road test
Cheers lads, what a bloody palaver

An outsider might think there was almost a hint of obstructive legislation… in a "We don't want their sort running amok!"
… kinda way
Having so very recently been through it all, I can confirm that it is very much a palaver

.
I believe that there's a fair wait for theory tests at the moment, so she may as well be wise to get it out of the way as it's good for two years. What I also found is that the hazard perception part is aimed at new rather than experienced drivers so I found that clicking when I saw the hazard developing and again a second later managed to get it done at the right time.
If Mrs W has any questions for someone who has recently gone through said palaver, I'll do my best to help!
Thanks Mrs visor

I would echo what MrsVisor said. Get the theory test booked as soon as possible and out of the way.
You can practice for free online and the questions aren't that difficult anyway.
The hazard perception test is harder for an experienced driver as you tend to see more hazards than there really are. I clicked too many times and scored 0 on one of them.

Phone in on radio 4 womans hour, about women's hobbies but predominantly female motorcyclists.