Not really having any race knowledge but I've heard of this bloke. I found it amongst some old paperwork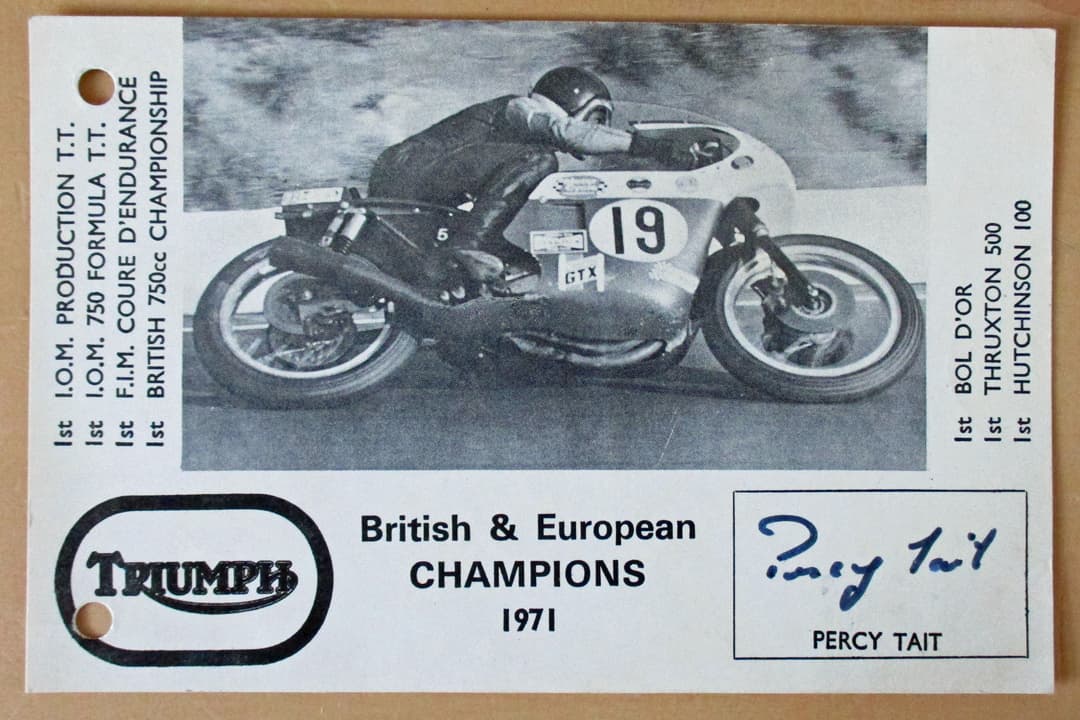 Percy Tait, triumph test rider, TT winner and experienced successful racer, also helped yamaha make improvements to the XS1/XS650.
He was known for his exploits as a test rider at Triumph, racing a 500 against the 650s along the Meriden mile (a road by the factory) and back again and beating them. He became a works rider partly on the back of that. He had a Suzuki motorcycle dealership in Birmingham in the 70s with Arthur Jakeman(ex Triumph) in the workshop. Percy was a real nice bloke and would always find time for a chat. My mate bought his Suzuki GT250 from there and I had my T140 serviced there. After he closed the shop down he had a Suzuki car showroom on the A45 near Allesley, Coventry .
Amazing speed but the famous Hizzy lap is even more impressive, I think.
Cor. How mad is that.
I've been to IOM several times - once in the late 70s for the TT and again in the early 2000s when I was involved in the deep shaft and tunnel from the beach into the cliff just South of Kirk Michael for Manx Gas. IOM got a tee connection from the Scotland to Ireland underwater gas pipeline.
The tunnel machine was delivered from Germany and could only get there right in the middle of the TT races. Was a bit of a palarva, so I was there for quite a while.
Having driven the course trying to find a cafe and anything actually open prior to the racing week/s that's really quite a feat of bravery going that fast around there.
I was up really really early a week or two before the racing started and had stopped at Glen Helen. There's a pub car park there and I could hear a bike in the distance. Bloody hell, it was loud as it got nearer. It pulled into the car park and stopped. A black American dude got off of the very first F4 MV Agusta I'd ever seen. We had a chat and shared a cuppa (I had a flask cause I knew there'd be fuck all open) I discovered he was practising for the race, can't remember his name, but, fuck me, it was a beautiful bike. A nice Geezer too. I wonder how he did?