Did you go yesterday (Saturday), @Timboo? What did you think?
I did indeed
There are more things to participate in this year including for children
Usual adventure circuit on a tiger, honda etc
Kids small motorbikes
electric motorbike circuit
test ride various motorbikes outside of the arena
Triumph stand was rammed for the unveiling of the new st triple. I didnt pay much attention to that.
There is a very good comp on the honda stand throw as many Rugby balls through a hole in 30 seconds. I got 17 one off the highest which i recon i could have beat. Prize was england france tickets in six nations so well worth a shot.
Key is to setup your balls.
Erm what else
Triumph had the thruxton R chrome on a podium. Lovely to look at but would be a mare to maintain vs previous connotations.
There were more clothings stalls some good some not so good.
The BMW stand was huge this year
Suzuki as we know have totally stopped their supersport range in favour of adventure and comfort they did however have the hayabussa.
In all honesty I felt that doing the show 2 years on the trot is too much I will be doing it every other year moving forwards
Note if you want to ride any sort of bike get in quick and get booked as they get bioked up in a few hours
Vs last year there is more of a shift towards electric, Kawasaki also had a hybrid supersports bike. There were a few new electric brands I have never heard of before.
I'm not sold on electric at the moment, which has possibly tainted my experience this year.
Forgot to say it was very very very busy vs last year, which was to be expected.
Also there was a stand with these contraptions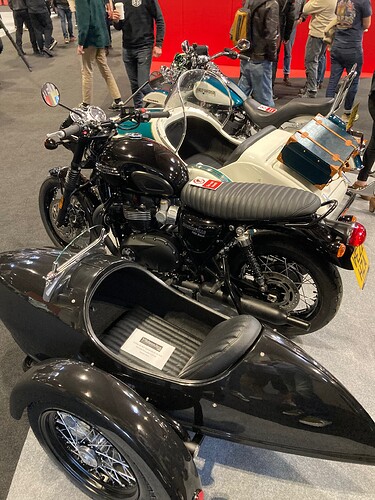 Thanks for the report. Any freebies!?
Never mind that, were the Ducati ladies back? I suspect not

…that's what I meant

There are the usual free keyrings at Triumph. In terms ladies on the stands there were quite a few it's fair to say toned down somewhat compared to the early 2000's.
I was thinking last night since posting I thought there would have been more of a push on the airbags built into leather suits. Dainese had a tiny stall none of their 2 piece with airbags though, which was a shame.
There seemed to be an increase in motorbike tours being advertised one stuck in my mind called Haggis bike tours.
A freebie from a ducati girl?



Something will fall off and she'll have to be sent to the dealer for an update…
Funny you should say that there was a Ducati lady in charge of spin the wheel game. I think you needed to sign up to something then you could win a pen, neck warmer, lanyard or couple of other things. Your comment jogged my mind
MMMM! Ducati girls with airbags built into leather suits…
Ewww… Haggis bike tours; I wouldn't have the stomach for that.
I've eaten plenty of haggis, but never seen one on a bike.
They'd need one foot peg much higher than the other.
Ah ha so that is what all of the fuss around the Triumph stand was about.
Apologies in advance I'm not au fait with the past and present st triple is it a massive improvement on the last version?
I haven't ridden a Street Triple newer than my 675. I'd be rather disappointed if it was still the same. :

I suspected that would be the case which is a pity as all the ladies I talked to each time I went to the show really enjoyed it as did most of the public. More political correctness at work again

I had a good day today at the show with the three people I went with, showed my usual newbie over - enthusiasm for most of the bikes there and met @Oldskool which was nice

.
The only thing I purchased was some beer (thirsty work) but sat on loads of bikes, fell in love with a Fireblade (see photo where I look slightly demented but if nothing else it conveys my feelings

), had a photo with Peter Hickman and watched people fall off bikes on the Adventure Experience (not that I would have fared well myself at all). All in all a good day

.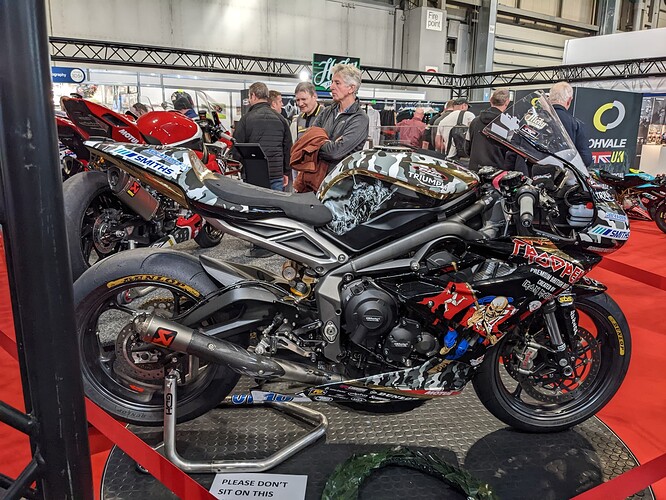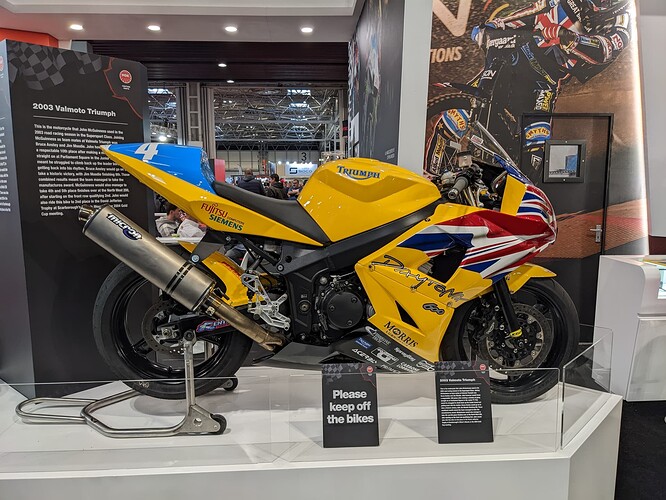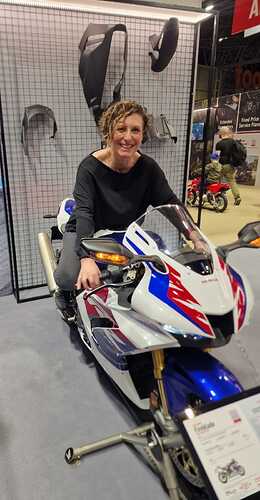 Them there Fireblades are temptation on two wheels …I had one in the mid 90's and even then it was a licence shreader. Gawd knows how long my licence would last on the latest one