That tangerine and blue is the nuts, one from the trumpet back catalogue.
I love the look of the thruxton

Some nice colours there, about time! I like that thruxton
can't believe it was only offered in matt this last 2 or 3 years

look how much better it is with a proper pain job! And the blue and white T100 aint at all bad either!
I like that too! I'm just slighty put off by it closely resembling the classic gulf colours. It they weren't already done to death I'd be much more liking it.
Agreed to a point but these were also Triumph original colours too on a 60s 500 possibly.
It suits the blacked out rims and engine cases… very nice!
The famous "Tangerine Dream" colour scheme was first used on the original T120 Bonneville
Beautiful, beautiful motorcycle with a purity of design that was truly stunning in its day. I do like that the modern Triumph Bonnie often seems able to replicate the ethos without being too much of a pastiche.
Seems they've dropped the blue/white from the current T100 range. That was my favourite! But the more I look at this, the more I like it… The urge is quite strong here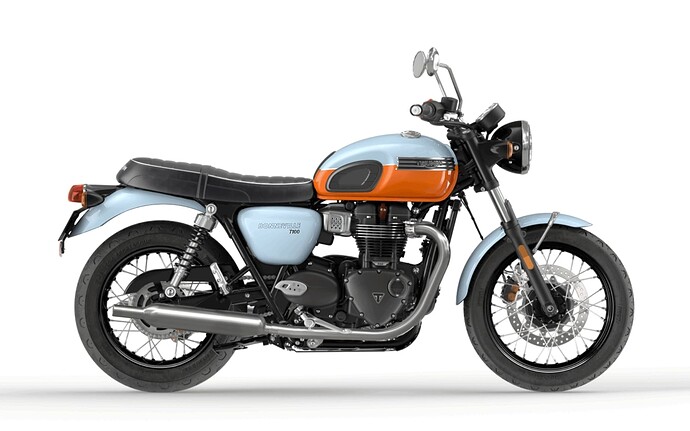 £9,750 in stock at Total Triumph in Taunton

if i damage the paintwork on mine I'll go for these colours, i reckon It'll look even better on my air-cooled T100.
I still prefer the blue and white, personally.