Johnson's were probably the biggest, but I assume you're talking about shape rather than size?
As we may shortly discover, you can't keep a good Johnson down.

He certainly hasn't been able to keep his down for very long.
Latest News - 'Johnson Pulls Out'.
It's like a 2 Ronnies pun!
And Truss has thrown the toys right out by resigning from the Conservative party all together. Saying they're no longer a Democratic Conservative party.
She is correct. Whatever we think of her politics and personality, she has been hounded and bullied out of her position by a gang of mysoginistic dinosaurs. I think they call it constructive dismissal.
Change it from the inside then

…or join the national front
The country doesn't deserve me Pat!
You can read that in a couple of different ways

So it is Sunak in to save us all

I did say he had the makings of a PM during the pandemic. Best of a bad bunch by a distance, fingers crossed he can get us a bit straighter. Pound's up already, might be able to buy some euros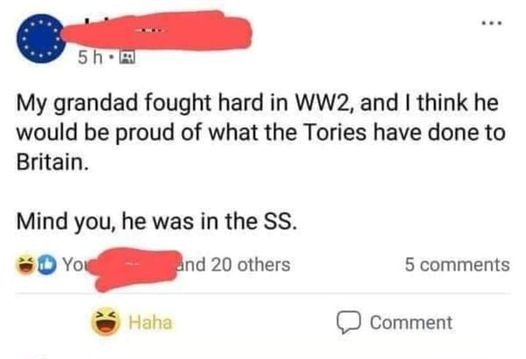 So my original question kind of worked…
Just need to avoid visiting my own thread.




And without the hassle of having to declare his intention.