A few outlets (MCN, Visordown etc) have been ragging 765RS's around Jerez this week. Which one would you choose?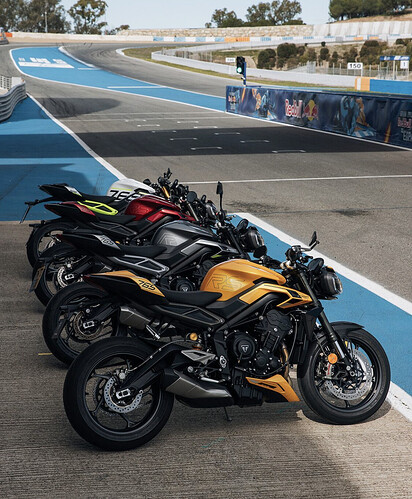 Cosmic Yellow RS I reckon.
It is…but I am a real sucker for a yellow bike! Hate the look without the front fly screen though so would have to order one (can't believe it's now an extra accessory…).
I always wanted a yellow Daytona. Definitely a favourite.
I had a yellow 955i Daytona in the early 2000's which looked lovely. Of those colours though I'd probably go red.
I agree about needing the fly screen to complete the look. It was also an extra on the Speed Triple.
I think the question should be red or yellow. For me anyway. Thats a tough choice!
Well you can't have the white one. They're all sold out.
Shame they've gone more for track focused changes, smaller tank, lower bars, raised the rear end.
Triumph seem to have lost their focus on producing great 'road' bikes with this and the 1200 Speed Triple.
The irony is, if you've seen the launches and promotional bits (all at the track) and contact them about disconnecting ABS, MIL errors when changing gearing etc for using the bike on the track, they'll respond saying"oh, it's not for track use at all"

The smaller tank would be a big negative for me if I were considering buying a new one.
I bought mine after discovering they had softened the suspension. I knew a new model was looming but the current model was so good and I reckoned they would only make it more aggressive so took the gamble and bought it before they changed it. I do prefer the new colours though, not a fan of the graphics on mine but everything else is perfect for real road riding.
I was unaware the tank is smaller… quite a big deal for me too as I use the bike in the real world and the range is decent as is.
It is; the new tank is plastic and almost 2.5l smaller. For me some of my rides can have a pretty long stretch between petrol stations and I'd not want to have to start worrying more about range.
2.5l! Thats a pretty big difference!
You're right, sports performance has been the trend for a while now. No doubt Triumph would point to their range of Bonnevilles, Street Twins etc. 'if madam or sir would prefer something more traditional for the road'.
A quick calculation based on the official mpg figure and a 15 litre rank suggests around 150 miles from a tank. Realistically it's probably more like 120, which I could live with, although if I started touring more again I may change my mind about that.
Either way I'm planning to book a test ride. It'll still be more comfortable than my MV…probably.

The official mpg is the same on my model as the 2023 model and I have to admit I wouldn't see 150 miles from my 17.4l tank never mind a smaller one. I have seen about 140 miles when riding really conservatively and far less when having more fun.
If I loved the bike as much as I do my current one then it wouldn't necessarily be a complete deal breaker for me, but it is most definitely a real negative that would make me consider a purchase really carefully.
I get about 120 miles from my 2020 RS with the extra 2.5L.
I'd guess @100 miles to a tank for the new one…
Any less then 120 range is not really that practical for a road bike IMO.
I'm surprised by some of the range numbers on these Street Triples. My Speed Triple also has a 15l tank and it averages 47mpg giving a theoretical range of 155 miles.
I don't ride it like a hooligan but I don't exactly hang about either. What mpg do you guys get from the Street Triple?
I have never ridden mine to the point of completely empty, but I estimate about 42mpg perhaps. I turned the ignition on just now to see if the overall average mpg is shown, but it isn't (unless I was doing something stupid, which is more than possible). Interestingly, the reserve light came on on the Blade at about the same amount of miles ridden as it would on my Street Triple so I would think the ranges are similar - although the Honda has an 18l tank and I have so far ridden it very sensibly indeed.
Edited to add that a lot of my commuting rides end up in some degree of stop - start when the traffic's really heavy for quite a few miles.