Hey, gang! It's good to be back. I've missed you all!

A couple weeks ago I promised some photos and info on my Sturgis rally trip. We left on Friday August 2nd and got back this past Monday August 12th. I started a new job the very next day so I'm running a little ragged and a lot behind. Figured I'd post comments and pics from each trip day on the forum each day rather than try to jam it all into one or two posts. So this will be a bit "blog-like" but with about two weeks lag time.

Day #1: Tucson, Arizona to Albuquerque, New Mexico (approx. 450 miles)
Five of us met up at our usual QT gas station with plans to be on the road no later than 6:30. It was me and four guys, one of whom (thank God) was my husband and best riding buddy, Mr. Sandi. There were originally ten who had planned to go. What the feck were we thinking?! Well, the five of us didn't get rolling until about 7:15am, a harbinger of things to come. ![: unamused:

The person leading our ride had gone to Sturgis 12 times prior to this trip so we all figured we'd follow his lead. It gives the saying, "Ride your own ride" new meaning!

We spent the whole day on the interstate (not my favorite to put it nicely) with a short jaunt through Hatch, New Mexico. Fortunately, Mr. Sandi had scouted out a terrific burger and BBQ joint in Hatch, New Mexico–Sparky's-- that turned out to have the best green chili cheeseburgers I've ever had. Salvation!

Stay tuned for Day #2 mañana.
Oh, I couldn't resist taking photos along the way for my Spirit Thread, "What you drinking tonight?" so check out that thread in a few days for more Sturgis trip photos that are specifically bar and spirits-related.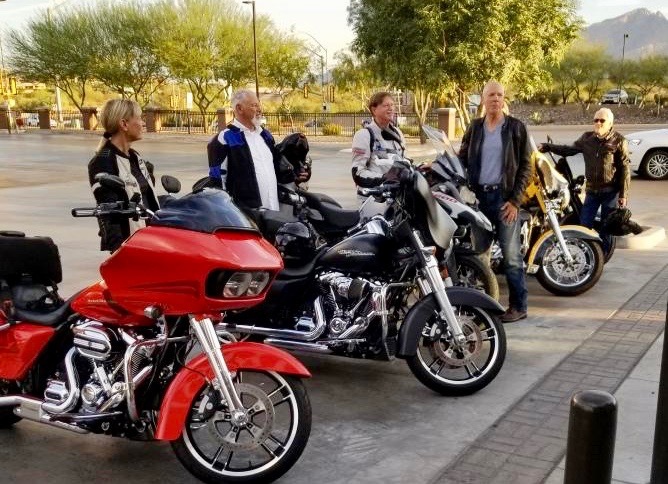 Sparky's
Day #2: Albuquerque, New Mexico to Ft. Collins, Colorado (510 miles)

We had a lovely evening in Albuquerque last night. A dear and long-time friend from my grad school days who now lives in Albuquerque joined us all, along with her hubby, for dinner at a craft brewery/Mexican restaurant. Hit the local Harley dealership before the brewery–both within walking distance of our hotel.
Today was the highest mileage day of the entire 11 day trip and it was straight up I-25 which is pretty darned straight. Not the most "challenging" route. However, we did have some challenging moments!
When we got close to Colorado Springs, the traffic became a nightmare but for no visible reason. Turns out we were going right by the turn for the summer "Renaissance Faire". Holy moly! It was bumper to bumper traffic for miles and miles. And through a gorgeous area that would have been great fun riding–had we been going the speed limit. Or even 20-30 miles an hour! I'm glad my clutch held out, not to mention my clutch hand. When we could finally move relatively freely again we were coming into Denver. Denver drivers make Phoenix drivers look tame. I won't belabor that point but we had some a*s-puckering moments, that's for sure!
One of the things we learned on Day #1 that was confirmed on Day #2 was that our ride leader likes to make a lot of stops. And I mean A LOT! Except for one guy with Heritage Softail who has a 5 gallon tank, the rest of us have 6 gallon tanks. I don't think that until Mr. Sandi started leading the ride the last two legs of the whole trip that my range ever indicated less than 200 miles. I like a break as much as the next guy (well, maybe not all of the next guys!) but, I'm just sayin'.
Our evening was uneventful. And nary a beer except for convenience store next to our hotel. And this in a town with two major craft breweries! New Belgium and O'Dells. Alas, we ate in a Denny's and got said beer in a can at the Shell station mini-mart next to our Days Inn hotel. At this point we were running on "It's not the journey, it's the destination." We did hit another Harley dealership just north of Pueblo, CO on the way to Ft. Collins. Our stops at this point were freeway off-ramp gas stations and Harley dealerships. But, tomorrow is a new day!

Day #3: Ft. Collins, Colorado to Lead, South Dakota (320 miles)
The bulk of our miles today were in the wide open spaces of Wyoming. I thought the landscape would seem boring but instead I found it very meditative. The sky was expansive and beautiful. There were many cattle dotting the pastures along the road and we noted a lot of beehives of all things. Well, I actually didn't notice those until I got stung on my legs right through my protective riding jeans!
As we got closer and closer to South Dakota we started seeing more and more motorcycles–some were heading towards Sturgis and some were evidently heading back home. I've been told that a number of folks who have been to the rally multiple times often start going towards the end of the week prior to the official opening of the rally. I can see why now. Being there a few days prior to the opening weekend would make for wide open roads to the "hot spot" destinations such as Mt. Rushmore.
The difference in the landscape when we went from Wyoming into the Black Hills of South Dakota was stunning. The "hills" of the Black Hills are more like small mountains. They are green and lush and there are twisties galore. We went over a pass that was over 6,000 ft and then descended Lead, the town in which we stayed. Here's today's route:
Two guys in our group stayed at a campground near Lead. Mr. Sandi and I and our buddy, Larry, opted for a hotel with nice bed, a warm shower, and a great breakfast in the morning. And considering it was rally time, it was not crazy expensive either! Lead is an old mining town and is about 18 miles from Sturgis. The population of Lead is about 3,000 and Sturgis has about 7,000 residents. Here are a couple of fun facts about Lead from Wikipedia.
I don't yet know the 2019 Sturgis rally numbers for 2019 but last year there were approximately 490,000 in attendance. Mr. Sandi did some research and there are about a half a dozen measurement strategies that are used to estimate rally attendance. One of them is to weigh the amount of garbage that is collected and divide it by 4.1 because they estimate that every person generates about 4 pounds of garbage a day. I'm sure Mr. Sandi must generate 6 or so pounds per day because I couldn't possibly generate that much garbage!

Here are a few pics from our first day in the Black Hills in Lead. Tomorrow we head into Deadwood and Sturgis itself and that's when things get pretty interesting!! Stay tuned…
Day #4: Lead, South Dakota to Deadwood (by hotel shuttle) to Sturgis (on Da Bus) (0 riding miles) Total trip miles to date=1300. Well, to be exact, 1301.

Today was our first full day in the Sturgis area. We woke up to a steady rain so had another cup of coffee and figured out how to spend our day. First off wecided to give our arses a rest and use public transit to get the lay of the land and see the sights. Our hotel provided a free shuttle to Deadwood and we learned that an enterprising gentleman had several years back set up a bus system (Da Bus) that runs during the rally only. So we figured out that we could go round trip from Deadwood to Sturgis on Da Bus for a reasonable fee and opted for that.
One of my first thoughts upon waking up to the rain this morning was…"Thank God I'm not camping with our buddies at the White Tail Resort!"

I was grateful to be dry and warm and with a good cup of coffee in hand. Actually, by the time we got to Deadwood on the hotel shuttle the rain had all but stopped and the clouds were breaking up. And shortly after that the sun came out and it was a glorious day to explore Deadwood and Sturgis for the first time ever for Mr. Sandi and me and our friend, Larry.
Here are some photos from our day along with some comments. Enjoy! Oh, and there's one photo that I slid in here for all you forum guys to enjoy.

I thought I'd have to sneak a photo of this woman but she was quite pleased and proud to pose for me!

Day #4: Morning in Deadwood
Two members of the Buffalo Chip Bikini Team and their Boston Red Sox fan mascot

The next picture is of me with two well-known women in the world of women's motorcycling, Gloria Struck on the left, who is still riding at 93 years of age. She's in a couple of motorcycle halls of fame. In the middle is Betsy Huelskamp who writes blogs and MC magazine columns. I recognized Betsy's bike parked on the street and was looking at it when Mr. Sandi told me to turn around and see the owner! Gloria Struck wrote a book about her 75 years as a motorcyclist so I went inside with her to buy a copy which she graciously autographed for me. I was so glad that we just decided to wander around Deadwood for the morning or we wouldn't have met these two women!
Day #4: Afternoon and Evening in Sturgis
This was the day we opted to let our iron horses rest–not to mention our behinds. So we took the hotel shuttle and Da Bus this day.
I didn't take all that many photos in Sturgis on this day but we went back a couple of days later and I got more. So here are a few to whet your appetites. If you are tiring of my words and photos, keep scrolling down and you will be amply (yes, AMPLY) rewarded!
Yes, there are bikes other than Harleys at Sturgis!

Day #4: Afternoon in Sturgis
This is "Da Bus". They have beers and shots for passengers en route!
The Garage Boys playing at The Knuckle Saloon. We fell in love with this band about 8 years ago at the Laughlin River Run and have seen them there and at Arizona Bike Week and Las Vegas Bike Fest every since then. They started playing Sturgis too just last year.
And here's the photo you've been so patiently scrolling for. We'd heard there were women all over like the place like this. But really, she stood out. In many ways.

And as I said, she was quite happy to pose for photos!

Day #5: Spearfish Canyon ride in the morning and Deadwood again in the afternoon
Today Mr. Sandi, Larry, and I decided to do the famous Spearfish Canyon ride. It was feckin' GORGEOUS! I could ride that route every week for the rest of my riding days. We rode it out and back then stopped for a fantastic bison burger (leaner and less cholesterol than chicken we were informed) and a soda at Cheyenne Crossing. We so enjoyed our time in Deadwood yesterday that when we got back from riding Spearfish Canyon we took the hotel shuttle back there for the afternoon and evening. Here's our ride map followed by Spearfish Canyon photos (where's that GoPro when ya really want it?) and more Deadwood photos.

I do have to say, it was ALWAYS easy to find my big, orange bike!


Day #5 continued: Deadwood in the afternoon by shuttle–so damn the torpedos and drink with impunity!
Hey, there was a Dilli sighting at Cheyenne Crossing!
More Deadwood fun…
The Deadwood Tobacco Co. We missed this on our first pass through in town. It was down in the basement sort of hidden away. Who need perfume when you can sniff cigar tobacco?!

What a heavenly scent.
Took these next two pics for my UK buddies on Main Street in Deadwood!

The "pool" at the coolest hotel in Deadwood. We'd stay here next time around…if we could get a deal. And, maybe…
that's a possibility.

We ran into a guy in the elevator of this hotel who had a DOBER vest on. To give you the quick and dirty, the DOBER's are a group of guys–sort of a "secret" society that my hubby belongs to. Mostly about the "secret decoder ring"


made by a company called Night Rider Jewelry that's based in Phoenix, AZ.
Anyway, this old guy had ridden to Sturgis from Tennessee for the umpteenth time. Turns out he's sort of a fixture at the rally. Well, he took me by the hand and told the three of us to "come with me". He led us to his room–along with his roommate–to check out his stash of unbelievable and rare Tennessee whiskey. The best JD they make and more. His roomie was a clinical psychologist so we teased him that he was in the presence of three psychologists and a psychiatrist (our buddy, Larry, is the MD psychiatrist). Probably not a coincidence that this TN guy was surrounded.

He "may" have needed therapy. He said that he's known as "the President of Sturgis". What a hoot! We actually ran into his roommate, the clinical psychologist, a couple of days later, at the Stinger Saloon. Photos of that day to follow. The Stinger Saloon was in the background of the photos I posted of the Triumph Rocket III's on Sturgis Main Street.
Oh, DOBER stands for Dirty Old Bastards Enjoying Retirement (or Riding)
Day #6: Lead to Rapid City, SD via Spearfish Canyon
Today Mr. Sandi, Larry, and I decided to ride to Rapid City, South Dakota taking the "long way 'round" via Spearfish Canyon. We had been regaled with stories of how big the Harley-Davidson dealership there is and also had been told about the "circus tent" with vast numbers of used and new motorcycles for sale. Here's the ride map of Day #6. You can certainly see what I mean by the "long" route. As I've said, I could ride Spearfish Canyon every week for the rest of my riding days!
Although I'm not a fan of the interstate, known as "The Slab" by some here in the U.S, I-90 was rather nice. It was good to be able to see for a distance and get the big picture of the Black Hills. Many other smaller roads in the Black Hills are through forests where you can't see very far. But I-90 is more open and has larger vistas. We checked out online map apps to see what exit to take for Black Hills Harley-Davidson but really all we had to do was follow the stream of bikes which took us right there. They have clearly done this deal before! Organizationally it was amazing–they had folks direct traffic all the way around the property up to and including directing us to the exact parking spot they wanted us in. And good thing…the parking lot was huge! Again, thanks to my "hi-viz" orange bike, we weren't too worried about finding our bikes once we had seen the dealership and vendor area.

Black Hills Harley-Davidson was where the bulk of the big vendors were set up. I figured they would be in Sturgis itself but that venue seemed to have smaller versions of "the big boys" who were located here. I'm sure it was a space thing. You could pretty much ride your bike to any one of a number of vendors and have mods done to your bike on the spot. For example, you could buy a new exhaust system at Vance & Hines, ride your bike to their area, and they'd pull off and discard (if you wished) your stock system and install your new system right there. Same with suspension, seats, you name it. It was like a motorcyclists candy store (to me anyway)! I did splurge on one item–a decorative part from KlockWerks that ties in my windshield with my fairing and matches other parts on my bike (grips, floorboards, air clean cover etc.) And I got the "rally discount" plus free installation.

Black Hills Harley-Davidson is huge! The building itself housed only parts and motor clothes. All their new and used bikes were under a very, very large tent. In the week and a half of the rally up to the day we were there, they had sold 430 bikes, both new and used. Their sales goal for two weeks (so four more days) was 700! Every time they sold a bike, someone wrote the number of that sale and posted it on the wall you see in the photo below. I suspect they met that goal based on what we saw. Bikes were selling like hotcakes. Interesting since most folks at the rally rode there on a bike–guess there must have been lots of trades happening. Here are some photos.
In addition to all the motorcycles for sale and the other related goodies available, there were some fun food options. Not necessarily on the "health food" list, but when you're at a motorcycle rally, health food is not at the top of the list!

The food vendors even had examples of items on display so you could see what the potato chips, pulled pork sandwiches, and other offerings looked like prior to ordering them.

Our ride from Rapid City back to the Blackstone Lodge in Lead was relaxed and delightful and we opted for the lovely hotel shuttle to hit the "Boar's Nest" for drinks and dinner after freshening up in our hotel room. Once again, I was thankful that I WASN'T CAMPING!! Gotta love those hot showers and "real" bathrooms.

Day #6 continued: An evening at The Boar's Nest
When we got back to our hotel from our ride to Rapid City, we attempted to connect with our two other camping ride buddies and meet up at a place they recommended that was close to their campground, The Boar's Nest. Turns our they were far afield and never did get back to the campground until close to 10:00PM. We were safely tucked into our comfy hotel beds by then.

But the Boar's Nest was a great recommendation! And once again our trusty hotel shuttle driver happily drove us there then came back to pick us up when after we ate and drank to our heart's content. Several beers later, no need to ride the bikes back to our hotel.

The women's bathroom at The Boar's Nest
And a "unique" Yamaha in The Boar's Nest parking lot
Back home at the Blackstone Lodge. Here's where our trusty steeds slept at night. The staff at the hotel were very kind and allowed us to park our motorcycles under the covered entrance area throughout the week. We lucked out and usually there were spaces available in this area vs. parking in the back of the hotel out in the elements.
Day #7: Lead to Sturgis and back (on the bikes today)
We had a nice, leisurely breakfast in the Blackstone Lodge then decided we'd ride over to Sturgis via a route we'd not yet been taken. Yep, looks flat on this map but it was anything but! A beautiful twisty and hilly ride on a gorgeous sunny day in the Black Hills with my beloved and our good friend. Life doesn't get much better than that!
The guys that we rode to South Dakota with—the ones who are CAMPING!

—did several of the iconic SturgisBlack Hills rides during the four days that we were here. But Mr. Sandi, Larry, and I agreed that we really wanted to see the people, bikes, and towns of the rally. Plus those guys didn't get out the door 'til about 11:00am or so each day. So while they rode to a bar in Montana today, we noodled over to Sturgis and hung out. I suspect that Mr. Sandi and Larry saw enough of Sturgis when we were there a few days ago but…not me!

We rode into Sturgis on a street called Lazelle which parallels Main Street one block away. This street has all the big Sturgis vendors. Harley-Davidson demo trucks and fleet, the big Indian vendor area, Vance & Hines, Rinehart, etc. One of the first vendors we saw as we came into town was a Dunlop Tires vendor so we stopped in to see if they would kindly check and adjust our tire pressure. The guy that we talked to was happy to oblige and was delightful and interesting. We'd heard horror stories about finding a place to park in the town of Sturgis but we parked on the side street right next to the Dunlop vendor. Easy-peasy.
We arrived in Sturgis mid-morning so relatively speaking it was still pretty quiet when we got there. Here's a photo from a set of stairs with a platform at the top that was set up at one end of Main Street. You could pay $5 to climb up to the platform with your camera for photos and video. I was a bit annoyed to pay but when I asked what the deal was, the gal taking my money said that the group sponsoring the "photo stairway" was raising money for Sturgis kids (e.g., building a skate park, school field trips). So I gave her $10.

Here's a pic from "on high". I'd say Main Street stretched approximately five to six blocks with this sort of motorcycle only parking. Later in the day the whole street was pretty much packed with all parking places spoken for and the street itself filled with riders.
Photos along Main Street…
There were LOTS of Jack Daniels "pop up" establishments around town.


Imagine that!
IMG_3999.jpeg
You could get body painted inside One-Eyed Jack's. I opted to stick with the two very tasteful tattoos on my left arm…and my shirt.
Even the Hell's Angels (San Bernadino Chapter) had a "pop up" vendor area.

And they have some nice stuff! Black leather vests with the nicest red lining.

Quiz for the day: Anyone know the Hell's Angels they use the number "81"??
Is it an automobile? Is it a motorcycle? Perhaps it's an autocycle!

This is NOT your grandchild's tricycle
The Indian vendor area on Lazelle Street
where I took up the fine sport of flat track racing!

Day #7: Lead to Sturgis and back continued
We ran into some more DOBERS while in Sturgis today. Well, we went to The Stinger Saloon on Main Street which I believe is owned by the guy that started the group. So it wasn't exactly a coincidence that we ran into some DOBERS.


This first photo is one that I already posted because of the Triumph Rocket III. This time I'm posting it so you can see the exterior of The Stinger Saloon as the pics to follow were taken inside the bar.
We actually ran into the clinical psychologist that we met in the Tennessee DOBER whiskey collector's hotel room a few days ago. He was concluding his rally with the intent of moving to Portland in a week or two. Lots of "rambling' souls" at this rally it seems.
And look who else wandered in to The Stinger Saloon. She must really like M & M's!

Everyone else in the bar sure seemed to.

And last but not least, the Sturgis Motorcycle Museum.
Day #8: Lead, SD to Dillon, CO (435 miles)
Our 1st day heading back home to Tucson
Alas, our adventures at the Sturgis rally have come to an end and today is the first day of our journey back to Arizona. After much debating and changing of plans, our two buddies who are camping have decided to join Mr. Sandi, Larry, and me on our alternate return route. We've planned a route home that includes much more scenic and smaller two-lane roads including some through the Rockies of Colorado. We've allotted one more day to get home than getting to Sturgis but none of our remaining days (other than today) will be big mileage, interstate pounding like we did on the way to Sturgis.
Last night one of our ride buddies texted to confirm that they'd be joining us on the alternate route and that it was "kickstands up at 7:30am at the campground in the morning". So…Mr. Sandi, Larry, and I dutifully arrived at the campground at 7:25 only to find that not only were they not ready, they weren't even close and didn't seem to be in any hurry. It was certainly not "kickstands up at 7:30". We wound up in the saddle and on the road 45 minutes later at 8:15.

As we rode through the Black Hills out of South Dakota and into Wyoming, I tried to stave off my annoyance by singing The Beatles "Let It Be" in my head and just let it go. Riding certainly is therapy and soon I felt calm and relaxed again. But those 45 minutes came back to haunt us because we ended up in Denver on major freeways AT RUSH HOUR ON A FRIDAY AFTERNOON!



As I mentioned in a previous post, Denver drivers make Phoenix drivers seem positively lovely, patient, and kind (which they are not). Our Friday afternoon rush hour traffic included stretch on I-70 heading west out of Denver heading towards the Eisenhower Tunnel. That stretch–I'd say around 10 miles or so–was completely stop & go traffic and the tune in my head became AC/DC's "Highway to Hell". And the "going" part of stop & go was about 1-2 mph. On the side of a mountain. A VERY steep mountain. Filled with very aggravated and impatient motorists. All those things coupled with large touring bikes with clutches, it was, shall we just say, "challenging". On a positive note, it certainly was confidence-building! I'd say we dealt with that part of I-70 for about 45 minutes but to me (and my clutch hand) it felt like 4 or 5 hours. Once the traffic cleared, I-70 the rest of the way to Dillon was beautiful! Big views, gorgeous mountains, and a river running right along the freeway. Here are some interesting fun facts about the Eisenhower Tunnel which I didn't know until I did a bit of research for today's post. I really didn't know how long the tunnel is nor that it is one of the highest vehicle tunnels in the world. It was pretty amazing to ride through it! This info was on The Google.

Anyway, as with our travels on the way to Sturgis, we made more frequent and longer gas stops today than was prudent or necessary particularly considering our route and mileage for the day. So for multiple reasons, we got to Dillon a couple of hours later than initially planned. I had been hopeful that we'd arrive in Dillon fairly early for two reasons. First, there is a gorgeous reservoir and dam in Dillon just a 10 minute walk from our hotel that I wanted to see. By the time we arrived we were bone tired and I was the only one with any inclination or energy to go see it. I did walk up to the reservoir by myself and was glad I did.

It was spectacular and so serene that I regained some semblance of sanity.

Secondly, there is a famous local brewery–The Dillon Dam Brewery–that I was itching to go to for a well-earned beer. And it was about 100 yards from our hotel. The challenges of our day took a bit of the shine off that experience too. But, hey, a good IPA can shine things right back up. I didn't take a photo of my beer on this night but trust me, it was delicious.

I paired it with a spinach salad with grilled shrimp. First real veggies (other than those in the Bloody Mary's) all week.
Here is a photo of the Dillion Reservoir. From where I took the photo at the end of it with the dam, there's a walking/bicycle path that runs the length of it which was being put to good use by pedestrians–both human and canine–as well as cyclists. Dillon is a town I could live in. It's situated at about 8000' so it would take a bit of acclimatization! And I don't ski. Hmmm, maybe I'll stick with Tucson.
One of the best things about arriving in Dillon was realizing that, with the exception of a bit of time on I-25 through New Mexico, our time on "the slab" was over. Whew!

Tomorrow we head over Fremont Pass, down through central Colorado and into northern New Mexico with our next stop being Santa Fe.
It was interesting to see some of the bikes around Sturgis that haven't officially been released yet or are just out. I saw these two Indian FTR 1200's outside a cool coffee shop/glass blowing studio in Deadwood. Got a chance to speak with a guy who was getting on one of them. He works for Indian and had nabbed one of the FTR's early that morning to run out for coffee. Said he likes the bike but it feels too much like "an appliance" currently without much soul. Evidently they are working on infusing some soul into the model.

I've also posted a photo of the coffee shop itself (an old gas station) and a pic of the glass blowing action.
Looks like in addition to buying lattes and blown glass, one can also purchase warm (or maybe arm?!) lubricants here.

Day #9: Dillon, Colorado to Santa Fe, New Mexico (310 miles)
After yesterday's mileage and a couple of our travel days on the way to Sturgis, 310 miles (325 to our hotel) seemed absolutely leisurely).
Today was the 2nd day of our ride back home to Tucson from Sturgis. Mr. Sandi took over ride captain duties as of today because he has lived in Colorado and knows these roads. I was really happy that he was at the front because he's a good group rider and knows how to ride when there are four other people in the group behind him! At this point there were still five of us (this is called "foreshadowing" in the world of writing, so I'm told). Anyway, every day is an adventure, right?! Here's today's route. It looks simple and flat but was mountainous with big sweeping turns. Positively beautiful! For me, today's ride was the best single day ride of our entire 11-day trip.

This is what the skies looked like as we were prepping to depart Dillon this morning. We started out with rain gear but it only spat on us briefly as we rode over the Fremont Pass. Thankfully! Fremont pass is over 11,000 feet with few guard rails.

I have fewer photos of my own today since we didn't stop much on this ride except a couple of times for gas. But I'll include some fun info about where we were. Here's some fun facts about Fremont Pass and the town of Leadville which was the first town we rode through after leaving Dillon and riding over the pass. Here's a fun fact about Leadville. It's the place in the U.S. where you can see the most 14,000' peaks! Locals call those peaks "Fourteeners". I guess climbers try to bag them all. I'll stick with riding over them–or near them.

We'll have to go back to ride in this area again as we didn't actually do what's called The Top of the Rockies Scenic Byway. Mr. Sandi has driven all these roads in a car back when he lived here. And we've both ridden over Independence Pass, which is over 12,000', to Aspen. But we've not done the stretch between I-70 and Leadville. Hmmm, seems like a good excuse to go back.

We rode along the Arkansas River for miles. This is a gorgeous river valley with sheer cliffs along one side. It is known for kayaking and the U.S. Olympic Trials for that sport have been held here. There's a very cool town right on the river called Buena Vista. We stayed there during the trip where we went over Independence Pass into Aspen. Here's a photo from Google Images that shows basically what we saw as we road through. There was a bit less snow when we were there–but not much less! These peaks are called the Ivy League Peaks and are all over 14,000'.
Our next gas stop was in a town called Alamosa. It's a small-ish college town and nothing too exciting. But…as we were leaving town, a doe and her fawn trotted across the street right in front of us. It was incredible and a memory I will not forget. The funny thing is, we took a wrong turn and were on 285 North when we needed to be on 285 South. Had we gotten it "right" initially, we'd have missed this touching and amazing sight. I don't believe in coincidence.

So, we arrived in Santa Fe right about check-in time. I love Santa Fe and it's one of the few places that could lure me away from Tucson. In fact, Mr. Sandi and I rode our motorcycles there (along with riding buddies) to get married about five years ago! Our families and other friends met us there. Anyway, there's a Harley-Davidson dealership right around the corner from the Best Western so the five of us agreed to check-in then meet back up in the parking lot to ride over. I needed a rear turn signal lens cap because I hit a BIG bump on I-70 riding to Dillon and Larry saw it go flying off.
Turns out only three of us rode to H-D. Our two camping ride buddies hadn't made hotel reservations and there was no room at the inn. So they rode on down the road and made it home on their own terms.
A riding buddy of our has parents in Albuquerque so has been to Santa Fe a lot. He highly recommended a restaurant called "La Choza". We ubered there so we could eat–well, drink–with impunity. Terrific New Mexican food (lots of green chili and blue corn) and delicious margaritas! While we were eating a big thunderstorm rolled through. I caught a pic of the aftermath. Glorious!
It rained more during the night but we woke up to beautiful blue and sunny skies!!
Day #10: Santa Fe, New Mexico to Show Low, Arizona (340 miles)
And then there were three… As I said in my Day #9 post, two of our ride buddies elected to depart Santa Fe yesterday and head back to Tucson ahead of us. Mr. Sandi, Larry, and I have traveled by motorcycle together multiple times before and we are a good "Three Musketeers" group. So though we were sort of bummed that the other two guys left early, we were also a little relieved and it did simplify our next two days.
Here's our Day #10 route map:
This is a familiar route to each of us as we've done other trips over the last half dozen years that have included this route. It is truly beautiful. Even though we were on an interstate (I-25) for a bit, it was a lovely sunny Sunday morning as we left Santa Fe and the vistas were spectacular. We had stopped for gas the day before prior to arriving at our Santa Fe hotel so didn't need to worry about that until the town of Soccorro, NM. From there we got off the freeway and took U.S. 60 west towards that evening's destination, Show Low, Arizona. But after turning onto US-60, our sights were set on Pie Town, New Mexico, which is home to the best pies I've ever had in my whole life! Typically we go to the Pie-O-Neer Cafe but they were closed as it was a Sunday. So we went to a place that was new to us, the Pie Town Cafe. Pie Town is on the Continental Divide at 8,000' and there are about four buildings/business there, two of which are pie-focused.

On the way to Pie Town between there and Soccorro is a very strange place called the VLA–Very Large Array. If you've seen the movie "Contact" this is it.
The 27 radio antennas are moved around depending on, hmmm, what communications they are receiving from the nether-world?! Our buddy, Larry, hadn't seen these antennas before so we stopped to check them out from the road.
As we continued west on U.S. 60 after stopping at the VLA, which Mr. Steve refers to as the VLFA (Very Large Fecking Array), the clouds and weather became more and more ominous. Mr. Sandi and I have Sena communicators and, after conferring, decided that if we had two or three raindrops on our face shield before we reached Pie Town that we'd stop on the side of the road to put on our rain gear. Amazingly, we got to Pie Town without that happening and it started raining the moment we went into The Pie Town Cafe.
Safely inside the Pie Town Cafe, we were warm and dry and ordered coffee and yummy pie.

I don't remember what flavor of pie Larry had but Mr. Sandi had apple and I had "New Mexico Pear" which translated to pear pie with green chili and piñon nuts. Sounds weird but it absolutely and amazingly delicious!! New Mexico is known for green chili–which I LOVE! But having it in pie–much less pear pie–was a first. But definitely not a last if they have it the next time we ride through Pie Town, New Mexico!
Alas, we couldn't escape the rain. As "desert rats" this is a big deal. I know that seems crazy to you from the UK where rain is common.

It started to rain while we were still warm and dry inside the Pie Town Cafe which I count as a plus because more often than not we've wound up on the side of the road trying to get our rain gear on while it's raining and we're already wet. So being able to don our rain gear indoors and dry was "gravy". But we did end up riding to our next gas stop in Springerville, AZ in a steady, driving rain. Fortunately the lightening was far, far away and the wind was minimal. We just slowed down a bit and enjoyed the ride.

Here's Larry getting into his "hi-viz" rain pants.
Once we gassed up in Springerville, AZ, it was smooth and dry sailing to our overnight destination, Show Low, AZ. Yes, Show Low is an odd name for a town. Here's the scoop…
Our hotel for the evening, the Best Western Paint Pony Lodge , is located on, yep, Deuce of Clubs. I love the American West!
After making an effort to clean our filthy bikes when we checked into our Show Low hotel, we decided to hit the neighboring Mexican restaurant for dinner. Fortunately, we were right next door to one of the best rated (TripAdvisor) restaurants in Show Low–Lucano's.And it was definitely worthy of the positive ratings. Here's my tamale and my taco. And, most importantly, my Stone IPA!

We considered it a meal well-earned. Not to mention that since breakfast in Santa Fe, we'd only had pie.

Tomorrow is the last day of our epic Sturgis adventure and, relatively speaking, a short day in the saddle back home to Tucson.
Day #11: Show Low, Arizona to Tucson, Arizona — HOME! (188 miles)
Wow, here we are on our last day of an epic 11-day motorcycle adventure. We woke up to a beautiful, sunny, calm, cool morning–absolutely perfect for riding. After a delicious breakfast and lots of good coffee, it was kickstands up at 7:00AM.
This last leg of our trip was very familiar to the three of us as we've done this route numerous times before in both directions. Our starting location this morning was the town of Show Low which lies at an elevation of 6,345 feet. Show Low is within the Apache-Sitgreaves National Forests in the White Mountains of Arizona. The first part of today's ride on U.S. 60 took us though dense forestland with huge stands of Ponderosa pines. We had to always be on the lookout for wildlife, particularly deer. The air quality was crisp and clean and the scent of pine trees filled our nostrils. We appreciated that all the more knowing we'd be riding into triple digit temperatures in a few hours.

As we came out of the pine forest, we entered the Fort Apache Reservation. Here the views became expansive and the roads made for spectacular riding–big sweepers and forever views. We had been delayed by some road work on a short trip to Payson AZ earlier this year but now that section of road was pristine pavement. In Motorcycle Heaven all roads are twisty, nicely cambered, and freshly paved!

About 50 miles out of Show Low we entered the Tonto National Forest which encompasses 2,873,000 acres and is the largest of the six national forests in Arizona and the fifth largest national forest in the U.S. (Thank you, Google.) Soon we began nearing the Salt River Canyon which is stunning and a very challenging section of today's ride. The two-lane road through the canyon has scores of hairpin turns coupled with huge vistas. You wind down into the bottom of the canyon, go across the bridge over the river itself, then immediately wind back up more hairpin turns and out of the canyon. We didn't stop for photos on this particular trip but here are some photos from previous trips through here. The black circle around a car on the second photo down is to try to give you an idea of the scale of the Salt River Canyon. It always seems sort of like a mini-Grand Canyon to me.
From the Salt River Canyon we continued on to Globe, a town that was established in 1875 as a mining camp. Initially the mines were silver mines and when the silver started running out, the mining companies turned to mining copper. We made our one gas stop of the day and each of us made a few work and other "real life" phone calls trying to start the "re-entry to real life" process.

With full gas tanks and starting to smell the barn, we started on the last 100 miles of our 2,800 mile journey. We arrived home in Tucson safe and sound around 11:00AM and were greeted with great delight by our boxer, Annie. As much joy and adventure that this Sturgis trip brought us, it was good to be home.
It has been great fun sharing my adventures with those of you following this thread. I hope you all enjoyed it! A big thanks to each of you who posted kind, encouraging, and appreciate comments and great feedback. As I said, I had many moments during my trip when I thought, "Hey, my Triumph Forum buddies would enjoy this!!"
Now we're on to planning our next motorcycle adventure, a ride to Las Vegas Bike Fest in early October. This will be the third year in a row that we've gone to that rally. It's a much shorter trip but is a great getaway and we, of course, take the long way there and back. Once again I'll be traveling on my (non)Triumph.

But in the meantime I'll be zipping around town and up and down Mt. Lemmon on my beloved Speedy.

Always remember…