Ever heard of the 'Sno Go'?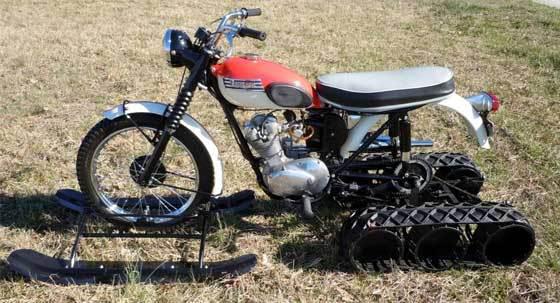 It was manufactured in sunny Calfornia for those who had a death wish to venture out into the deep snow that often hamper normal living in the sunny orange state.
When one was put up for sale a while back on ebay this was a comment from a potentail buyer:
My first reaction was "Man, how cool is that! I want to ride it!" But after reading the eBay description and the seller's candid explanation of this rig's dynamic qualities, I have decided that it would provide much more excitement in my life than I'm looking for at my age.
If this thing were produced and sold new today, think of all of the warning stickers and labels it would have plastered all lover it.
I reckon this video shows the guy who bought it. It's a recent video from CBS on a visit to a bike meet. There's some cool machinery, lots of patina and bandanas…
The Sno Go is about 10 minutes in