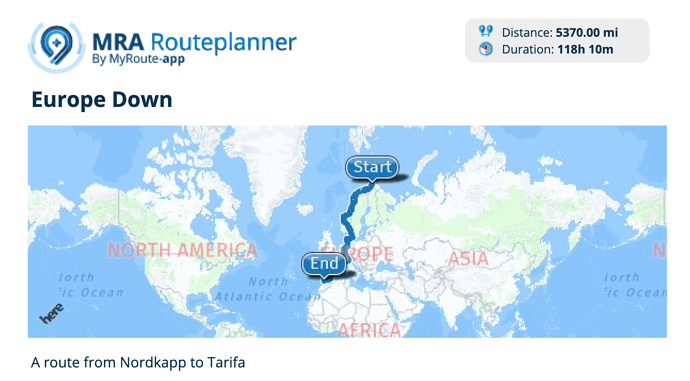 As some of you know, I'm planning a big trip next year, from the northermost tip of Europe that's accessible by bike (Nordkapp, Norway) to the southernmost point (Tarifa, Spain). There's a fairly long thread about it on the other forum but all future updates will be made here. I've already caprured all the information from those other posts in Evernote so nothing will be lost even if the original thread is lost.
I haven't posted many updates lately because I've had other things to work on but I'm still expecting to be on a bike next summer for the longest single journey I've ever undertaken.
It's good that @TheRevenant has joined here; my next action is to pick your brains about the Spanish leg of the journey!
The route is complete but nor finalised. Everything is being planned in MyRouteApp and I'm happy to share all that information with people if they want to see it, or even export the whole route, with waypoints, to a PDF if you're interested That document runs to 54 pages, currently!