That looks absolutely delicious, lucky you. Local restaurant

?
It was… 2nd time this week as it was SWMBO's birthday Tuesday and mother's day yesterday so I took one for the team. It's only a 10 minute walk away. The chicken tikka was so big I cut the pieces into 4 and the lamb tac a tac is my favourite. There was enough main course left to take home a doggy bag so that's me sorted next time she's out on a ladies night…
Today I'm mostly looking at reviews or detail for our future travel car. Since our VW T25 or T3 for European was sent for a definitive retirement at the rust heaven, we were thinking about our new travel/leisure vehicle. Vans are now reaching totally insane prices, so we were for a few month considering something a bit different. A pickup.
We now travel only 2 of us, a pickup can be useful with the house, we are living in a rural/mountain area. 4 wheels drive can be very comfortable.
A friend of mine juste told me he ordered a new Ford Raptor pickup to replace his current Mitsubishi L200. He will be delivered by Ford in 1 year.
We already agreed to buy the L200 after we could see and try it.
Not ours yet, but we are already thinking about our next travels, like Polar circle, Scotland (again), etc etc.
A hardtop will be installed to sleep in, or receive a roof tent over.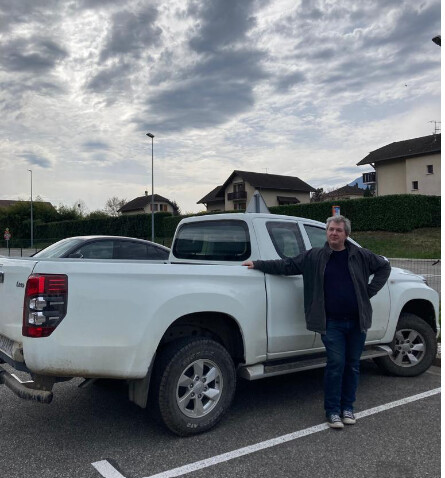 Edit: It's not electric

Very nice Hubert. An excellent choice - sturdy, reliable and roomy. And it'll go virtually anywhere!
Are you talking about the pickup or Hubert now?

Obviously!

Is there a Gremlin sitting on the passenger side Helmut…?
I used to have an L200, took it to gigs and slept in the back

Yes but I try not to get it wet

I still haven't tried it since your recommendation. I must rectify that soon…
Don't pose like that, people are beginning to talk…
I already had a fair number of nicknames isn't it ?
And … I still don't give it a s…

Today I have mostly wondering if the release of the Met report has accidentally coincided with bj's admission of "I misled everyone by accident" confession???

Too much thinking, not enough dancing …