I think we,ve established I don't think, I just say whatever comes to mind…
Oh my, that is really bad luck. It is such good news to hear that whilst lots of injuries, hopefully you can make a full recovery.
Can I ask?
I've used,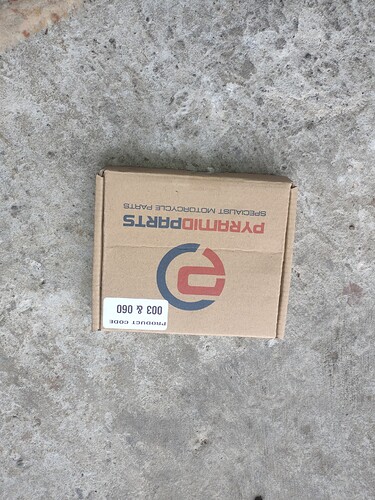 these, oil seals, a few times and don't recall any issues. Any one else use these? My local bike shop owner says for Triumphs it needs to be OEM. Any opinions?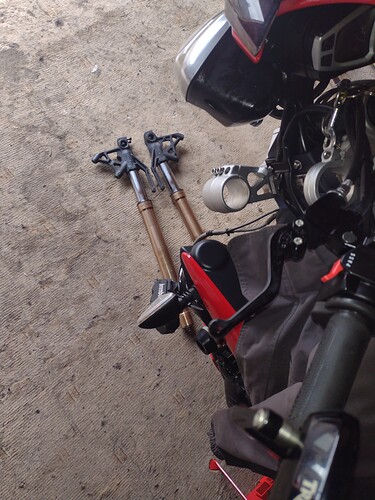 What part is it? Ive used pyramid plastics for belly pans and screens etc with no issues, regarding Triumph, "they would say that wouldn't they"
Fork oil seals. Yeah. He's a back street Garage, nice guy, been at it for years.
Can't give a direct answer, but my son used pattern part seals on his Suzuki cafe racer build and ended up binning them and using genuine Suzuki seals. So job done twice over, the pattern ones leaked not being as tight a fit on stanchion (and perhaps more rigid rubber).
I've used Athena pattern seals on literally dozens of bikes including ohlins with no issues, as long as the size and profile is correct the most common issue with fork seals is incorrect or cack handed fitting and not cleaning the sealing area properly.
I mostly spent today cutting grass, but at one point, over a cup of tea, I was browsing through an unsolicited glossy bike gear catalogue, mostly advertising clothing. There was page after page of elegantly-cut jackets and trousers being modelled by slim and impossibly good-looking young people. Now, from personal observation of my fellow motorcyclists at filling stations and elsewhere, about 90% of the potential customers for these outfits are gentlemen of a certain age, somewhat challenged in the waistline department, and looking about as slim and elegant as a sack of spuds. I suppose the idea is to make us think we will look like the models if we buy their products. They must be joking!
I spent most of today sitting in my car trailering a horsebox to the barren North, where the savages live…

. We delivered the mrs.' horse to the woman who is going to train and sell him. He's just not what she wanted, which is a shame, but there will be another one that is. Sat in a traffic jam for an hour, because of an overturned lorry. 200 miles in a cage when I should have been out on the bike in this glorious weather…
Things you do for love eh! (Or for a quiet life)

Happy wife, happy life mate!
No appropriate emoj. -Dont know how to procced- will have to lie down -now-
I sort of think this to. Problem is if I'm not, going to listen to the old bike mechanic, why did I ask his opinion.
I ordered the Pyramids before speaking to him and then had my doubts and ordered OEM , then the Pyramids arrive and I want the job done so, I second guess, and ask you guys , and the OEMs should arrive in time and I still waiting for oil, so- and- I don't know-No appropriate emoji- need to lie down-
Ouch! Hope you make a full recovery. As the whirlybird brigade turned up I'm guessing plod attended too? Assuming there's independent witnesses/dashcam etc and they've said you're not to blame in any way I'd consider getting a specialist bike solicitor to fight your case for compensation and get some good advice on what to expect. If your employer pays sick leave be careful as they may come to you for money back if you get some for loss of earnings, something a decent brief will now all about and be able to advise you about that too. Good luck, at least you're still more or less in 1 piece to tell the story.
Today I've been at the daughter's Victorian semi detached money pit prepping the outside wall before repainting it tomorrow with masonary paint. Thd garden is more of less sorted now but It's not been touched for years and the whole house needs plenty of tlc. They've/we've done the 1st floor rooms now it's downstairs…it's never ending
After a hard day decorating… time to make a little Bbq lamb butty


(Don't worry, I made the family some too)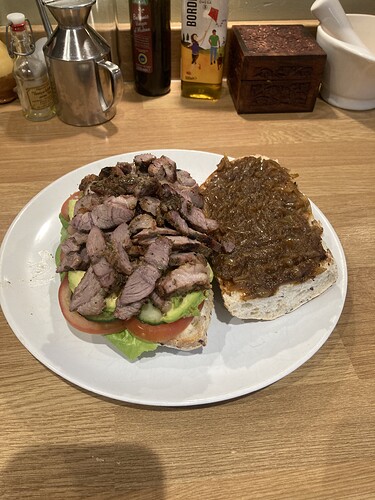 Now we know who ate all the pies…fatso.

Mmmmmmm… pies!